Description
Advantages of Stampede Timothy Grass Pellets
For all life stages
Supports healthy digestion naturally
Low starch and sugar content
Sun cured naturally – no artificial binders
Ingredients:
Weight: 40lbs (18.14kg)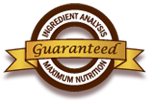 Guaranteed Analysis:
  Crude Protein (Min.)
8.0%
  Crude Fat (Min.)
1.8%
  Crude Fiber (Max.)
35.0%
  Moisture (Max.)
10.0%
Feeding Directions:  Stampede Timothy Grass pellets can be fed as is right out of the bag or they can be soaked to facilitate mixing a grain and forage mash but soaking is not necessary. Substitute normal hay with Timothy Grass Pellets on a weight for weight basis. Stampede Timothy Grass Pellets can be used as part of the forage program to supplement pasture or extend available hay sources. Be sure to feed the equivalent of at least 5 pounds per day of pasture and/or hay when feeding Timothy Grass Pellets.